With four decades of rich industrial experience, we are a globally reputed brand of all types of industrial keys...
Most Popular Products
Preamble
Promoting innovative technology in the arena of industrial key production, we have witnessed a major developmental upswing in the last four decades. Canara Standard Keys was established in the year 1966, and has been well known in the industry for its uncompromising attitude towards quality. Today, it is a highly reputed ISO 9001:2015 & IATS 16949:2016 certified manufacturer, exporter and supplier of All Types of Industrial Keys including Parallel Keys, Woodruff Keys, Taper Keys and Gib Head Keys, etc. which are most widely used in automobiles two wheelers, electric motors, machine tools, gear boxes, oil pumps, alternators, fuel injection pumps, all types of pumps, machine tools, power tillers & tractors and many other applications. We maintain varied international quality norms with each and every item of our extensive product portfolio and thus, offer our valued customers a one stop solution to their requirements in a cost-effective manner. For us, success comes naturally as an outcome of committed attitude towards quality and customer satisfaction and this attitude is the secret behind our undisputed leadership in the industry.

At present, we supply our products to all the major automobile and two wheeler companies and have a mind boggling production capacity of 12,00,000 pieces per month. Our company is a reputed member of KASSIA (Karnataka Small Scale Industries Association) and is regarded as one of the pioneering industry leaders with an export market spread all over the world.


We Canara Standard Keys, a partnership firm, was established in the year 1966. For the last -52 years we have uninterrupted working and supplying keys to all customers. The company is being run with high ethical standards and supplying the components of good quality in time, every time at reasonable rates. We are thankful for the patronage and encouragement for the last 5 decades.

As the present all partners are all above 70 years, the succession issue has to be attended. In view of the same we are converting the present partnership firm to a private limited company in the name of Canara Standard Keys Private Limited ("the Company") and introducing a new shareholder, M/S NOSTA GmbH.

M/S NOSTA GmbH was established in the year 1976 by Mr. Hermann Ludley and at present is managed by Mr. Gregor Ludley.
M/S NOSTA GmbH is already manufacturing keys in Germany with an annual capacity of 5 crores (50,000,000) keys. The group is having one more company known as DEMA Prazisionsteile GmbH, manufacturing precision turned components with annual number of 70 crores (700,000,000) pieces produced. DEMA Prazisionsteile GmbH is managed by Mr. Frederic Ludley. The total turnover of both companies put together is 50.000.000 Euros (400 crores INR).

The location of the Company at present remain the same and in future will relocate to a- bigger premises and install technologically innovative machines and methods. This will allow us to improve the quality and also the production rate. We also like to inform that Mr. Dinkar MChiploonkar the present managing partner will continue for some more time in the management of the Company to assure that the present commitment to quality, ethics, timely supplies and co-operation will continue as usual.

We have been already audited by TUV NORD for our Quality Management System as per IATS 16949 and recommended for certification. As there is no change of location, staff and workers, the Quality Management System remain the same and the certification will be transferred in the name of the Company.

Our Product Range
Canara Standard Keys is a highly reputed manufacturer, exporter and supplier of the
Complete Range of Industrial Keys
which comply to varied national and international quality norms. In addition, we can manufacture customized products as per the specification of clients. Our product portfolio includes the following items-
Parallel Keys as per IS 2048, IS 6167, DIN 6885, BS 4235, BS 46
Woodruff Keys as per IS 2294, DIN 6888 and BS 46
Gib Head Keys as per IS 2293 and BS 46.
These keys are generally used on shafts, wherever power transmission is involved. Our keys are mounted on the shafts to lock a pulley, gear or a coupling. We can also manufacture
Hardened Keys
and other
Customized Products,
if required by our clients.
Click here for more details
.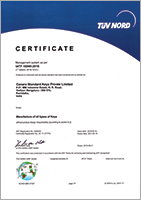 Contact Details
CANARA STANDARD KEYS PVT LTD
31-C1 Veerasandra Industrial Area, Near To Electronic City Toll Gate, Hosur Road, Bengaluru - 560100, Karnataka, India
Phone : +918068341467
Mr. Parthibhan S. A. (Executive Director)
Mobile : 918068341467
Phone : +91-80-29600701/702
Mobile : +916366048444